R-Biopharm AG
Our company
We gain competitive advantages through diversity as this allows us to create a uniquely dynamic environment. An environment unified and focused to flourish through common values.
Over 800 employees all around the world combine their know-how, ideas and engagement in our company. Become one of us and find out what possibilities we can offer to construct a unique career opportunity for you.
Experience our special atmosphere and embrace the opportunity to take on responsibility with your competent colleagues. Use the scope given to develop ideas and find out what it means to build a future through quality.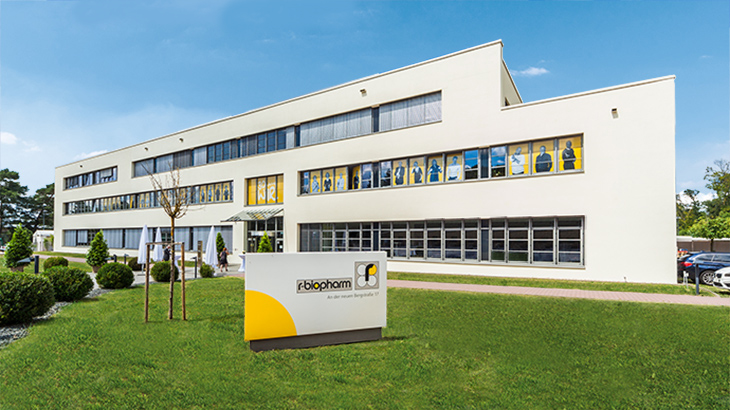 Employee numbers
Our employees – a success story
In recent years, R-Biopharm has been growing constantly. Our employees, many of which have been accompanying us for decades with competence and engagement, are our most valuable success factor.
People from all five continents and from over 50 countries work for us and profit from our excellent development and career opportunities.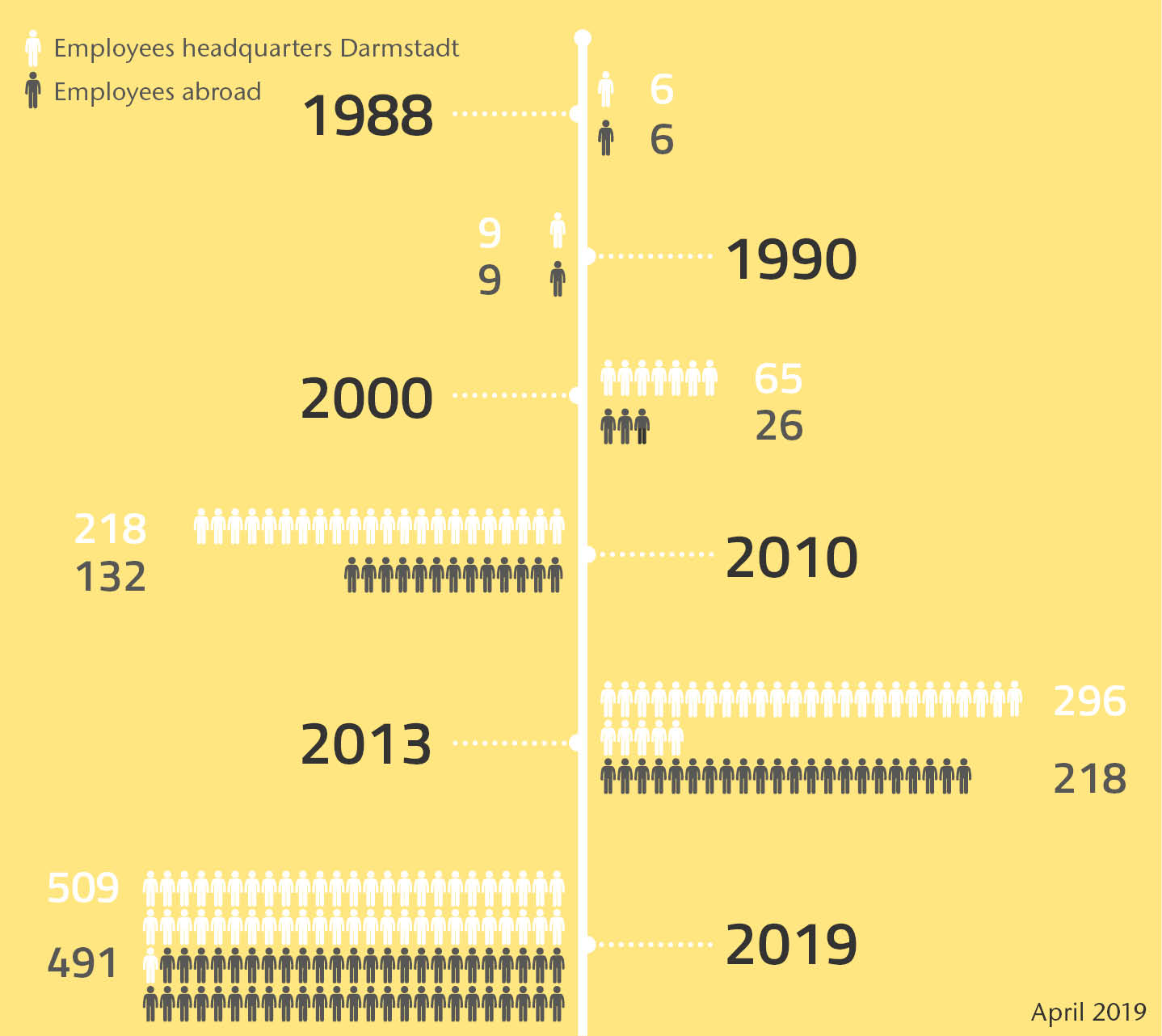 Subsidiaries
Global success
Biotechnology experience since 1988
1,000 employees worldwide
More than 16,000 m² research and production area at our headquarters in Darmstadt
Over 700 tests in our portfolio
Represented in over 120 countries by subsidiaries and distributors
Several awards for sustained strong growth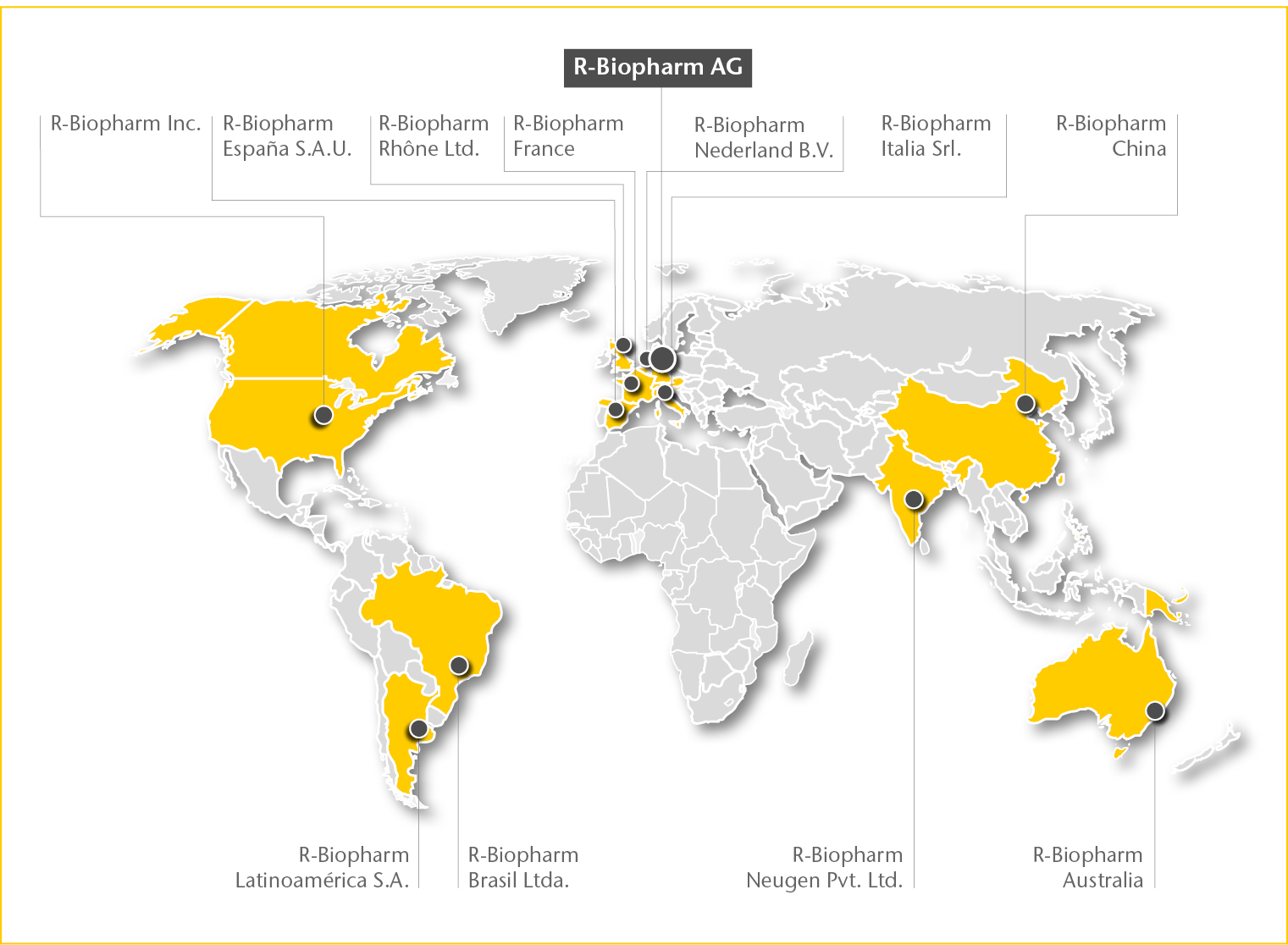 We want you!
Whether you are a pupil, student, graduate or professional – we look forward to working with you. At R-Biopharm, you can start your career with a training as a biology laboratory assistant or pharmaceutical technician. We also offer student jobs and a trainee program for graduates. With professional experience and expertise, you can join R-Biopharm directly as a professional.
Good reasons for working with us:
Medium-sized business means variety and creative freedom
Working for a market and technology leader
We ensure a working atmosphere in which we achieve goals together
We encourage initiative and self-responsibility
Our competitive salary package will convince you
We offer targeted training and development opportunities
Family and career go well together at R-Biopharm
Our benefits include:
Voluntary special payment
Employee stock option plan with attractive interest rates
Capital-forming benefits
Travel ticket to ensure free travel to and from work
Company bicycle
Our contribution to a good working atmosphere:
Christmas parties and summer family festivals
Flexible working hours and various options for part-time employees
Responsibility towards the employee: preservation and promotion of health, minimization of health risks, health provision and professional medical care
Yearly flu shots
Our company restaurant offers:
Breakfast and lunch
Vegetarian and meat dishes
Desserts and sweets
Warm and cold dishes
Almost exclusively regional, seasonal and organic cuisine
Fresh meals made in-house every day