Our CSR projects
We support the Global Compact of the United Nations, the world's largest and most important initiative for responsible management. To promote progress in the field of science, we have established cooperative efforts with institutions of higher learning that enable us to develop new and innovative products through competent research and development. Moreover, we are engaged in a variety of charitable projects, employ renewable energies and energy-efficient technologies, and offer our employees a wide range of services. A selection of our CSR activities is available below.
Statement
R-Biopharm is distinguished by its fair, team-oriented approach that is valued by customers and research partners alike. Our aim is to be a competent point of contact for customers in every field of activity. R-Biopharm is involved in a range of intriguing, forward-looking areas in clinical diagnostics and food and feed analysis. The primary goal is to develop new, multifaceted and rapid tests that make it possible to answer a wide range of analytical questions even more quickly.
If you have any questions or suggestions with regard to our CSR programs, please send us an email at csr@r-biopharm.de!
Corporate efforts
UN Global Compact
In 2018, we joined the UN Global Compact. The UN Global Compact is the world's largest and most important initiative for responsible management and was initiated in 2000 under the auspices of the United Nations. It constitutes an international group of companies that are committed to sustainability and responsible management. The initiative's aim is to make the globalization process more socially responsible and ecologically sensitive.
By affirming the UN Global Compact, we promise to maintain universal principles regarding human rights, labor standards, environmental protection and the elimination of corruption within our sphere of influence.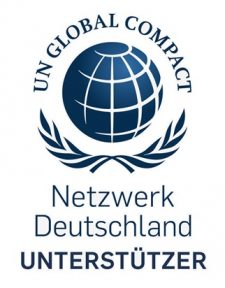 B.A.U.M. – Code of Conduct for Sustainable Business
In addition to the UN Global Compact, R-Biopharm is also a member of B.A.U.M., the largest European network for sustainable business. We hereby commit ourselves to a sustainable way of doing business, and take responsibility for nature, society and future generations.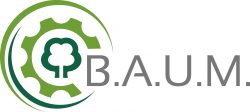 Darmstädter Werkstätten
We are involved in a cooperative effort with the Darmstädter Werkstätten (Darmstadt Workshops) and offer numerous positions integrated within the company in the context of this collaborative effort. The positions are tailored to the individual skills of people with disabilities and are fully integrated into the business processes. The positions are distributed throughout many areas the company and include jobs in packaging, document destruction and the company restaurant. Moreover, the Darmstadt Workshops have been involved in grounds maintenance for many years.
Our company restaurant also purchases agricultural products from the farm of the Nieder Ramstadt social services. The farm is a certified organic business according to Naturland guidelines.

Vocational schools and universities
For years, R-Biopharm has focused on developing new and innovative solutions in the fields of food and feed analysis as well as clinical diagnostics.  Innovation has always been a key part of our corporate culture, and we fulfill our responsibility to society by promoting the health and well-being of the population with our innovative products. This is accomplished through effective research and development which bears fruit through close cooperative relationships with institutions of higher learning.
We have established partnerships with institutions of higher learning in and around Darmstadt that promote the exchange of scientific knowledge and aim to develop new products. Moreover, students have the opportunity to become involved in our company through work-study programs while attending college, through internships, and through theses related to areas of company research.
Moreover, in cooperation with the Martin ­Behaim School and the Darmstadt Occupational Training and Technology Center, students can pursue year-long internships in our business departments. The year-long internships offer insight into various fields of work and processes and allow students to become familiarized with and investigate a variety of work approaches.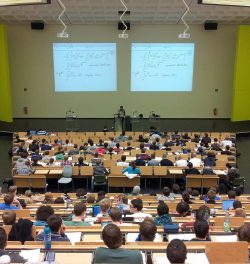 Social engagement
Circus Waldoni
R-Biopharm supports the Waldoni Children's and Youth Foundation that realizes the social projects of the Circus Waldoni. Since 2004, the Circus Waldoni, which is located in the southern borough of Darmstadt-Eberstadt, has been responsible for a number of community projects for children and youth from socially disadvantaged backgrounds from a variety of ethnic and cultural origins. In the current social context, disadvantaged youth are rarely provided with the appropriate opportunities to become successful and fully integrated. Scientific studies on preventing drug use and violence have revealed that involving disadvantaged children in games and sports successfully prevents them from drifting into gangs and addiction. The Circus Waldoni seeks to achieve this goal by offering projects related to circus work and involving children and teens in them. R-Biopharm has been a longtime supporter of the efforts of Circus Waldoni.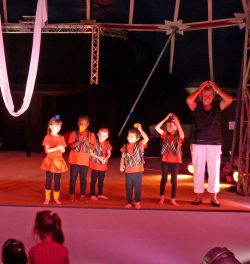 Aktion Kinderzukunft
Employees of R-Biopharm support Aktion Kinderzukunft, whose mission has been to provide relief for children in crisis, especially from Eastern Europe. The motto of Aktion Kinderzukunft is "Christmas packages for children in need", and the organization engages kindergartens, schools, families, associations, companies and private parties in providing Christmas packages for needy children in Eastern Europe. Aktion Kinderzukunft drives the assembled packages to Romania, Bosnia-Herzegovina and Ukraine in several convoys during December. The packages are distributed to orphans and street children, ill children and those from poor families in children's homes, schools, kindergartens, hospitals and slum areas. Many children in the world are unaware of what it means to receive personal gifts due to the extreme poverty in which they and their families live. We wish to offer these children a glimmer of hope at Christmas and help ameliorate their suffering somewhat, at least at Christmas.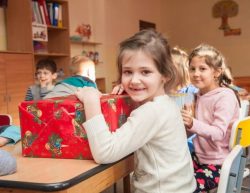 Kids Academy
We have held several company events that give children and teenagers the opportunity to become familiar with the activities within our company. One thrust of the Kids Academy is to familiarize the children of employees with their parents' occupation. In cooperation with a foundation, children whose parents do not work at R-Biopharm also have the opportunity to participate in these events and learn about activities within the company. Even though fun is a key feature of the Kids Academy, education does not receive short shrift. A parcourse is set up in the building with various stations at which age-appropriate experiments can be performed by children and teens. In addition, they can also be introduced to areas of research and thereby get a taste of scientific and technical ideas through play.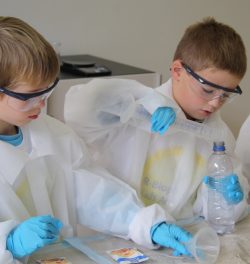 SOS Children's Village
SOS Children's Village has been an advocate for more than 60 years for the needs, concerns and rights of children. Their efforts focus on abandoned or neglected girls and boys and disadvantaged families. SOS Children's Village seeks to help suffering children and teens achieve a better life and offer them a future. SOS Children's Villages can be found in 134 countries throughout the world. In over 500 SOS Children's Villages, about 58,000 girls and boys are currently growing up in a family together with siblings in a house within a local community. As a nonprofit association, SOS Children's Village relies on donations. R-Biopharm regularly offers SOS Children's Village financial support.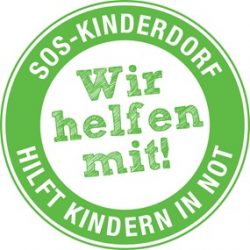 Warenkorb Pfungstadt
Warenkorb Pfungstadt is a voluntary group with the goal of offering help to citizens in personal and financial difficulties.  Once a week, the food bank distributes food provided by stores and businesses that is picked up by food bank helpers. After the food bank had been established for a while, the Pfungstadt "children's shopping cart" came into being. In addition to toys, clothing and shoes for children, it also offers household goods and clothes for adults. Employees of R-Biopharm support the food bank and children's shopping cart with donations in kind.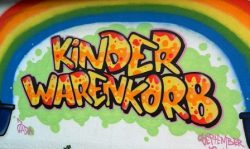 Computerwerk Darmstadt
We regularly update our IT systems. When old hardware is replaced with new, we donate the used equipment to the Computerwerk Darmstadt. In the computer shop, the hardware and its components are then refurbished and donated to those in need.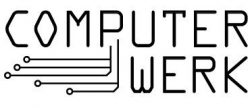 Initiative Sternenzauber und Frühchenwunder e.V.
When we replaced our production clothing, all used clothing was passed on in a sensible and sustainable manner. Thus we have once again made a day care centre happy, where the high quality shirts from Hakro are used as painting coats and are used permanently because they are suitable for industrial washing. We were especially touched by the voluntary work of the Initiative Sternenzauber und Frühchenwunder e.V. (initiative to support premature babies): They use our textiles to lovingly sew by hand tiny pieces of clothing. In this way we can pass on responsibly manufactured products for the most important thing in the world.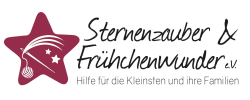 Employee benefits
Regional organic food
Our company restaurant offers a wide range of food. Locally sourced organic products are used almost exclusively. Hot and cold dishes, seasonal recipes, soups, salads and desserts are prepared fresh every day. Regional agriculture is supported through buying locally, which also reduces transport-related environmental impact.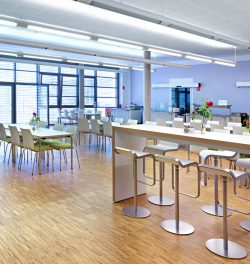 Sports activities
We support the athletic endeavors of our employees. We have a wide range of options for promoting health and fitness. The purpose of team activities is to promote fun and cooperation. Our employees regularly participate in the J.P. Morgan Corporate Challenge in Frankfurt and the company ultra-triathlon in Pfungstadt, and they jog together, organize soccer tournaments and chess games and ski together on the weekend.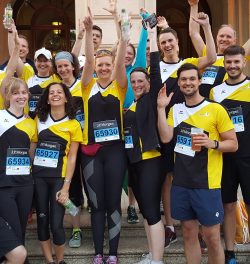 Academy
One of our aims is to educate our employees across disciplines. With this in mind, we developed the R-Biopharm Academy that promotes personal development in addition to professional expertise. The underlying concept is to broaden people's horizons by offering a wide range of themes and thereby expand the capabilities and expertise of our staff.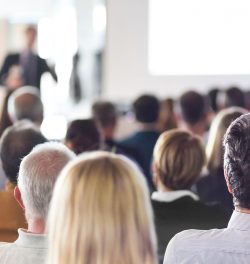 Environmental protection
Use of renewable energies
As society has become more environmentally aware, sustainability has become an important concept for us as well. At our facilities in Darmstadt, we have installed two photovoltaic systems on the roof of the company building. The first photovoltaic system has been in operation since 2010 and puts out 24 kWp. The second one was installed in the summer of 2014 and delivers 55 kWp. We were able to reduce our carbon emissions by about 50 tons per year as a result of using the two photovoltaic systems with an overall output of about 80 kWp. In addition, we have a cogeneration plant at company headquarters that produces power and heat, all of which is used in-house. The carbon emissions of the cogeneration plant are roughly one-third lower than with separate heat and electricity production. We also minimize our in-house energy consumption through efficient HVAC technology, and we make extensive use of low-energy LEDs for lighting. Optimizations have also been carried out in other energy-related areas, for example by replacing refrigeration systems or implementing active, energy-oriented operation of building systems. We are also able to save energy at the workplace by using green IT systems, and digitization allows us to carry out the majority of communications paper free.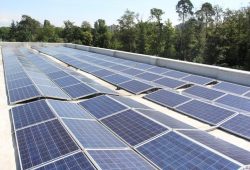 Buying locally
In our company, we seek to buy locally. We prefer suppliers who are nearby and only seek out more distant ones if a local distributor cannot be found. The rationale behind this approach is to support the regional economy and shorten transportation routes to reduce associated environmental impact.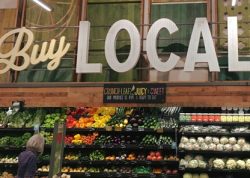 Sustainable packaging solutions
When purchasing our primary and secondary packaging, we make sure that it is biodegradable if at all possible. This involves using partially or completely compostable materials without softeners or pollutants. All of our paper-based packaging materials are entirely recyclable, and no product requires disposal at a landfill. Over the long-term, we plan to replace plastics with biodegradable materials. We used stringent criteria to select the system disposal companies that we use for disposing of our business-to-consumer products.
Waste management
At R-Biopharm AG we use a variety of methods according to national regulations for recycling and disposing of waste, each of which has a different impact on the environment.